Monstress #1 by Marjorie M. Liu and Sana Takeda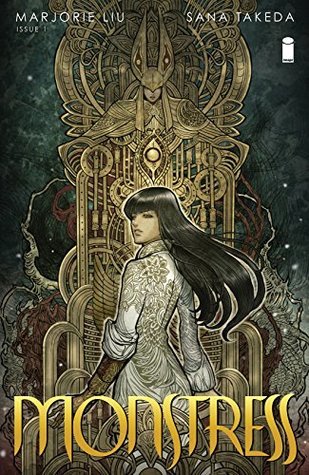 Steampunk meets Kaiju in this original fantasy epic for mature readers, as young Maika risks everything to control her psychic link with a monster of tremendous power, placing her in the center of a devastating war between human and otherworldly forces.
This was a wonderful first issue and quite a long one (which is good) as well!
Maika is one of the non-humans, a monster for humans. But is she really? I think this is going to focus a lot on the question: Who is the real monster here? People or the so called monsters. This issue introduces some great characters who are not black-and-white, which is something I always appreciate.
The artwork is absolutely beautiful and it fits the story so well!
I can't say that much about the story since this is only the first issue, but it seems this is going to be a complex, beautiful, and dark one. There is quite a lot of violence, but it's not there just to shock. I really enjoyed this introduction to new comics series and I hope all the new issues are going to be as great as this one. :)
Rating: