Nimona by Noelle Stevenson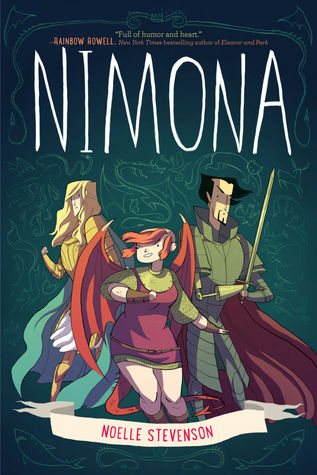 Nimona is an impulsive young shapeshifter with a knack for villainy. Lord Ballister Blackheart is a villain with a vendetta. As sidekick and supervillain, Nimona and Lord Blackheart are about to wreak some serious havoc. Their mission: prove to the kingdom that Sir Ambrosius Goldenloin and his buddies at the Institution of Law Enforcement and Heroics aren't the heroes everyone thinks they are.

But as small acts of mischief escalate into a vicious battle, Lord Blackheart realizes that Nimona's powers are as murky and mysterious as her past. And her unpredictable wild side might be more dangerous than he is willing to admit.
I guess you've heard about this one, right? :)
Nimona is a bitter-sweet story about heroes and villains and the thin line between those two. Actually, it really works with ambiguity and shows us that very often things aren't just black and white.
I enjoyed little details like the names, Ballister Blackheart is a badass name, isn't it? And

Ambrosius Goldenloin made me laugh out loud!
Also, I really enjoyed the art and the fact that it's written and drawn by one person - very impressive!
It was playful and fun, yet dealing with big themes and ideas. Definitely worth your time. :)
Rating: